Modernising The Mainframe: Open Source And Trends
The Linux Foundation recently hosted their first ever virtual summit. It was forced online by the Covid-19 pandemic but proved to be an extremely immersive experience that attracted over 4,000 participants from 109 different countries.
This event was facilitated by the online platform InXpo. This platform allows conference organizers to gamify the entire experience of attending a virtual event – hundreds of sessions and tutorials can be scheduled alongside virtual sponsor showcases and booths.
I think that it's very interesting to see how events are being virtualized in a more sophisticated way than the earlier attempts to just stream a keynote speech. Conferences like this one hosted by the Linux Foundation are genuinely developing a way to be immersive and inclusive without requiring travel to a conference location.
The success of this event just demonstrates the continued interest across the world in open source software and systems. Google has recently launched the Open Usage Commons to address some of the problems that open source developers have been having with projects in recent years. In particular, once a product or system is developed and released into the world it can be difficult to keep track of the product name and versions because open source code is open and available to anyone. The Google system allows products to be trademarked and then openly shared, but in a more controlled way.
There is now a significant 'bootstrapping' community amongst corporate IT leadership. These are IT executives and decision-makers actively looking for open source solutions and products to come bubbling up in their business area. They actively try to support and promote interesting new products, helping to create a critical mass of developers all contributing to a project.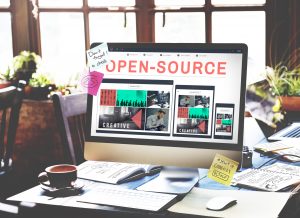 All this is a world away from when I was managing a global software development team two decades ago and it was a controversial decision to migrate to Linux servers for our critical systems and infrastructure. Eventually, my company had a very positive experience of building out an open-source server farm and they expanded on that dramatically.
Now we can see that open source standards have been extended beyond systems such as servers and even into mainframes. At The Open Source Summit I mentioned earlier there was a big announcement by the Open Mainframe Project about the long-term support for Zowe – the open source integration platform for mainframes running IBM's z/OS. The Zowe framework is part of a broader initiative to make z/OS more accessible.
Rather than requiring IT teams to acquire and retain specialized skills, IBM and other independent software vendors in the mainframe ecosystem, have been modernizing tools and processes as part of an effort to make mainframes running z/OS function more like any other platform an IT organization may deploy.
Announcements like this renewed support for Zowe reinforce how important communities (such as mainframe developers) are becoming for the wider open-source movement. With major industry giants like Google now lining up to help facilitate more open source projects and corporate leaders bootstrapping great new ideas, the entire open source community is not just becoming normalized, it is being championed.
I fully expect to see many new corporate tools, using a variety of platforms, launched in the new few years completely based on open source development. Many will be cloud-based systems that can be accessed and paid for when needed, but the open source approach is also shaking up other areas, such as mainframes. This is an important area to follow because, as the announcements at the recent Open Source Summit demonstrate, change is coming fast and major brands such as IBM and Google, are helping the wider industry to focus on where open source can be more widely used.
I recently had a conversation with Sergey Beganski, the head of the mainframe department focused on new technologies at IBA Group. We focused on mainframes and open source and you can view the video conversation by clicking here.