New Reality: Technology Trends for Belarus to Apply
IBA Group
Daria Kovalevskaya
On September 30 and October 1, the IPM Business School organized a technology conference in Minsk, Belarus. The conference titled A New Reality: Challenges for Belarus explored the modern trends in technology and how they are applied in the world and, particularly, in Belarus.
The first part of the conference was dedicated to crowdfunding. Speakers highlighted the advantages of crowd economy not only for small businesses and startups but for bigger companies and enterprises as well.
Crowdfunding allows for shaping the entire industries according to what consumers want to see and buy. If they want to read a book by a particular author, see a play with a particular cast of actors, or even buy a chewable ice maker, it's up to them now to finance it. At the same time, campaign creators are able to validate their ideas (to see if the world is actually interested in what they have to offer) and create relationship with potential clients.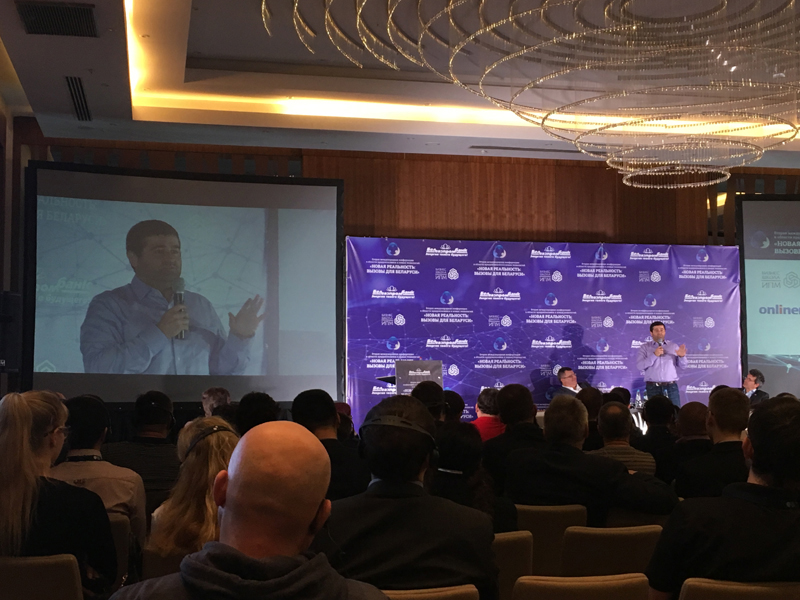 At the second part of the conference, speakers presented the Internet of Things, drones, and chat bots. The most exciting part was the presentation of Smart Cities, a project by Philips, which uses recent advances in communication and data analysis to make big cities more livable and sustainable. Small sensors and devices work together to collect information that can be used later to save energy and help citizens feel safer.
Advantages of drones and chat bots were also mentioned. The potential of drones cannot be underestimated, as the drone market has recently hit $127 billion. While mostly used in the entertainment area (photography and video shooting), drones operate in construction, agriculture, transport, and security. They can cover areas that are either unreachable or unsafe for humans and substantially reduce the human factor risks. The only stepping stumbling block for drones is the government and rigid drone registration policies.
Chat bots are presented as alternatives to mobile apps. Similar to AI assistants like Siri or Allo, bots provide instant information. The main advantages of bots are multiplatform usage (opposed to mobile apps, bots don't require different coding for each operating system) and low prices for their development.
The last trend discussed at the conference was Blockchain, a technology that allows for making and verifying transactions instantaneously without a central authority. A great example of Mycella, a company created by singer Imogene Heap, shows benefits of using the blockchain technology. Artists could release their music themselves, gaining control over their earnings and additional information about their songs.
Countries like Belarus may easily adapt to these technologies if they accept them and introduce changes to their institutes.  Crowdfunding is already a triumph here, with the biggest Belarusian platform, Ulej, funding over 40% of successful campaigns since its launch in 2015.
New reality has already made its way into the modern life. Customers, creators, and mechanisms of interaction between them are changing, and those who will be the first to embrace these changes will gain the biggest benefit.