GSA Shortlists Belarus For Best Outsourcing Location Award
IBA Group
Mark Hillary
I blogged several encouraging reports from my visit to Belarus a couple of months ago including an interview with Valery Tsepkalo from the Minsk Hi-Tech Park (HTP) and Sergei Levteev, the IBA Group Chairman, however there is now some exciting news that verifies what these experts have been saying for years – Belarus has been noticed and recognised by the Global Sourcing Association (GSA), previously known as the European Outsourcing Association (EOA).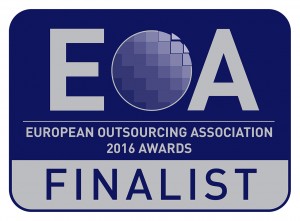 Specifically, Belarus has been shortlisted as one of the best outsourcing destinations in Europe and IBA Group is shortlisted for the best European Corporate Social Responsibility programme.
The final decision will be announced at the awards ceremony in Bulgaria tonight. Whatever happens at the awards ceremony it's a big boost for Belarus to be noticed in two important awards categories in this way. The best location and the company that is most responsible – all important, but given the information supplied by Valery and Sergei in those earlier interviews I'm sure that Belarus has a serious chance of winning the best location in Europe category.
Belarus has big local companies offering complete end-to-end solutions and expertise in systems integration, but the local startup scene is also extremely strong too. Companies like Viber and Wargaming are innovative and are defining the markets where they operate. Many services are now distributed via the app store for Apple and Android users and therefore the country of origin is noticed less than before – local players can quickly become global in this environment.
Government tax breaks and services such as the HTP are showing that even smaller nations can make a big impact in the global technology marketplace. Shortlisting Belarus as the best place in Europe for IT outsourcing is just one more step towards a more general recognition that this is a great place for running technology projects – good luck to everyone in the Global Leagership Summit & Awards tonight!