Project Planning for SAP MDG Data Migration
Specific Features and Best Practices
As a long-term partner and solution provider of SAP AG, IBA Group has been delivering enterprise master data management solutions using SAP MDM since 2012 and SAP MDG since 2015. The experience we accumulated over the past ten years enabled us to identify the specific features and techniques that are essential for SAP MDM/SAP MDG project planning.
Master Data Preparation and Migration as a Key to Success for SAP MDG Projects
In typical projects related to implementation of transactional systems on SAP ERP, including S/4HANA, the focus is on the design and implementation of business processes. For a new SAP ERP or a restart of an SAP ERP project, we set up a separate subproject to migrate data from legacy systems with minimal changes.
Unlike projects on SAP transactional systems, implementation of SAP MDG often requires data normalization, so that before SAP MDG business processes go live, the so-called master data golden records should be prepared and loaded to the system.
Our practice shows that with a conventional approach, preparation of master data golden records should be done in parallel with the design and implementation of business processes, as indicated in Figure 1. This way, we can reduce the overall project time.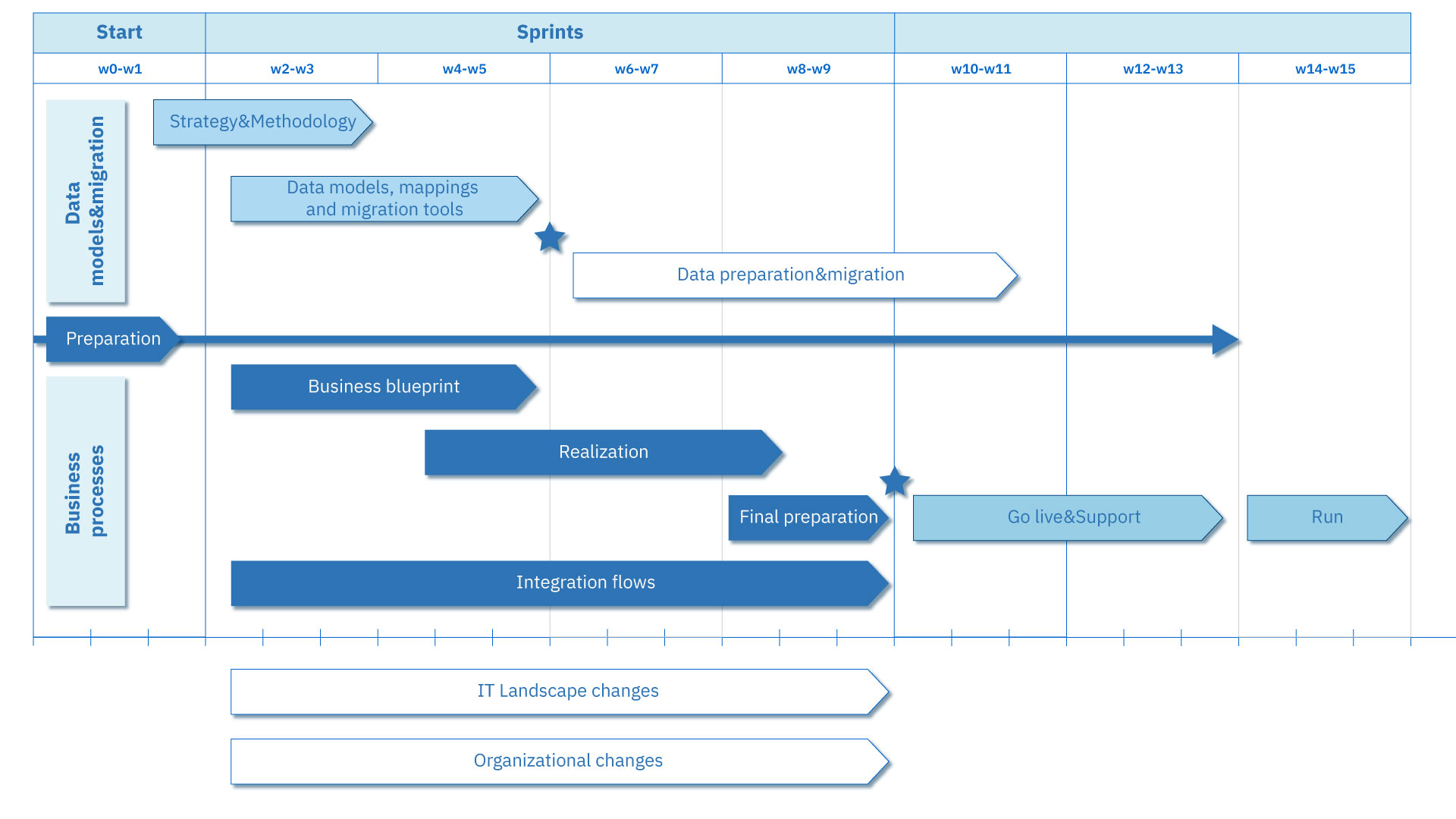 The figure illustrates a typical implementation plan for an SAP MDG project, including key components (work packages).
As labor efforts on data preparation are comparable to those spent on the design and implementation of business processes in SAP MDG projects, these stages take roughly equal proportions in Figure 1.
Main work packages for an SAP MDG Project
1. Preparation and migration of data, including:
1.1. Development of a data management methodology (definition of quality criteria as part of the methodology) and a data migration strategy
1.2. Development of data models, mapping of legacy data fields to relative fields in the new data model, development and/or configuration of migration tools
1.3. Data preparation or creation of master data golden records, including normalization
2. Typical stages of business process development, including:
2.1. Design (business blueprint)
2.2. Realization
2.3. Final preparation
2.4. Go live & support
2.5. System operation
3. Development of a solution for integration with partner systems (definition and implementation of integration flows)
4. Modification of the system landscape, typically performed by the customer for security reasons. A service provider can have access only to the development and testing systems. In a number of projects, IBA Group was involved in the deployment of the system landscape with subsequent transfer of the support work to the customer
 5. Implementation of organizational changes, typically performed by the customer. In a number of projects, IBA Group developed regulatory documents on the operation of master data management systems
We use a well-established practice of splitting work packages into fixed time intervals (sprints), with flexible project management methodologies applied at each work stage or package. For the overall project plan, we use a waterfall methodology. In Figure 1, the sprints are indicated as w0-w1, w2-w3, etc.
For each work package or work stream, we define work products. Within sprints, we keep lists of comments / requirements based on feedback from key users. The feedback comes from regular online meetings where we discuss work issues and from email correspondence. Depending on customer requirements, deviations from the typical plan are possible.
Preparation of Master Data Golden Records Using SAP MDG Business Processes
In one of the projects we implemented, the customer did not prepare master data in a form of files to be loaded, but created master data for materials and business partners from scratch using the SAP MDM business processes. Before that, IBA Group jointly with the customer developed and the customer approved a master data management methodology. We developed a classifier (taxonomy) of materials, including hierarchy and attributes valuable for business as a part of the methodology, as well as deployed the system landscape and implemented business processes for creation of master data golden records.
We also prepared administrative and regulatory documents, such as a classifier of materials and a master data management methodology, including description of data models and business processes, concurrently with the deployment of the system landscape and implementation of the business processes for creation of master data golden records.
The customer stopped the purchase of items that were not presented in the SAP MDM material master data and organized a group of master data experts (data stewards) who within 8-10 weeks processed more than 100,000 requests for the creation of material master data golden records. IBA Group provided full support for this work using a dedicated incident registration system with prompt incident resolution.
The main advantages of this approach are the elimination or minimization of labor costs in legacy data migration, creation of customized master data, hands-on end user training, and stress testing of the system under significant load during the initial entry of master data.
The disadvantages of this approach include the need for significant involvement of the customer as key users and as owners of master data sections in the development of a methodology and a classifier, and as end users and master data experts in the initial entry of master data.
Conventional Approach to Master Data Preparation in SAP MDG Projects
A more widespread approach to master data preparation in SAP MDG projects is to upload legacy data in a readable format (e.g. Excel spreadsheet) and then process it in a normalization system, either internally or by a third party service provider.
The normalization system allows for identification and elimination of duplicate, incomplete, incorrect, and inconsistent records, as well as for identification and specification of master record attributes, if needed.
The table below gives examples of material master data entries.
The processing of records results in a set of files, ready for loading in the target system. Although data normalization is the task for a group of data stewards, involvement of the customer's specialists is required only at the final stage to confirm the completeness and correctness of the normalized records.
With this approach to preparation of material master data, it is possible to identify the attributes and the records themselves either directly based on the content of the records or with the use of specialized external data sources.
For example, for entries from the above table, one can identify the fitting attributes, including NPS (Nominal Pipe Size) in inches (1/2" or 0.5), fitting angle in degrees (90), and radius type (LR-long radius, SR-short radius) through internet search of price lists of various companies or other sources.
In addition, specialized external sources, such as ECCMA eOTD or IBA HOTD, use international standards to identify the attributes of items valuable for business in supply chains.
Superseding Normalization in SAP MDG Projects
If the customer uses external sources, one more approach to the creation of master data is in place, namely superseding normalization. With this approach, we embed an SAP ERP add-on module in the existing SAP ERP (S/4HANA) or SAP MDG system. This module allows for identification of a material master record with attributes on the fly, generating the correct short name and description that prevent duplicate entries, while checking for completeness and correctness of the generated record.
In contrast to the other two approaches, superseding normalization does not involve massive labor costs. It is possible to create master data golden records gradually, by package/subgroup/subclass of records. With this approach, we can choose to replace only the records that the customer uses actively in business processes.
Therefore, I gave an overview of a typical project plan for the implementation of a master data management system based on the experience of IBA Group. I briefly described three different approaches to data migration, including the creation of master data golden records. All of these enable our clients to maintain the required level of master data quality.
In my next blog post, I am planning to show how we configure material master data in SAP ERP with the use of specialized external sources.